1939 OLDSMOBILE REGISTRY
---
51
1939 Olds 4dr Sedan
frame off restoration
Owner: Robert Gustafson
Location: Kelley, Iowa U. S. A
E-mail
---
52
Owner: Tiny Casteel
E-mail
---
53
1939 Olds Coupe
Owner:Mike Lewis
Location: Baton Rouge, La
E-mail
---
54
Location: Montreal, Canada
Owner: Ed Malboeuf
---
55

Location: Florida
Owner: Thomas Seiler
---
56
1939 Olds 4-door sedan setting on a complete 1976 Olds frame, 1976 Olds Rocket 350 engine with 4-barrel carburetor, Olds 400 automatic transmission, silver gray vinyl and tweed interior installed five years ago, power steering, tilt steering with LeCarra steering wheel, Walker radiator with electric fan, AM/FM/Cassette radio with 4 speakers, dual exhaust. Air conditioner is installed but not electrically hooked up.
Owner: Vernon & Shirley Blackwood
Location: Spring, Texas
E-mail
---
57
1939 F-60 4 door resto-rod.
The body and interior has been kept close to stock. But it has a new drive train - Chevy 307, TH350 transmission and Nova rear end.
It also has a new steering setup -Nova front clip, power steering and rear IFS, and VDO instruments in a billet panel.

Location: Evergreen, Colorado
Owner: Kurt Schwabauer
---
58

Before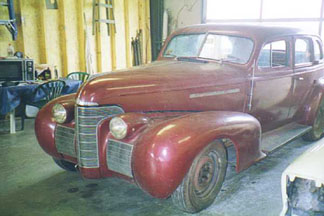 After
1939 Olds F60 Series, 1971 Olds 350 engine, TH200 4R transmission, Olds Cutlass rear end with 3:42 posi-traction. Car has been in family since 1968)

Location: Knoxville, Tenn
Owner: John and Belinda Ford
---
59
1939 Olds Series 70 2-door Sedan. It currently has the stock 230 flat head six, transmission and rear end.
I will be installing a SBC 305 with a TH350 transmission and a 10-bolt rear from a 67 Nova SS

Location: Lansing, Mich
Owner: Jim Spalding
---
60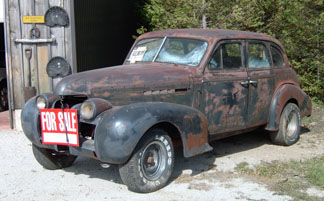 1939 Olds Series 70 4-door Sedan.
Under restoration

Location:
Owner: Spencer James
---
---
BACK