1939 OLDSMOBILE REGISTRY
---
31

1939 Olds 2 door 60 series
6 cylinder
34,000 miles
Pictures to follow
Owner: AL ZINK
Location: Kensington, NH
E-mail
---
32

1939 Olds 4 Door 70 Series
3 speed manual transmission
6 cyl. 230 cid 95 hp engine
Super de Luxe radio and heater
Color: metallic green
Imported from Atlanta to Finland in 1990 needs exterior paint and upholstery
Owner: Matti Silvola,
Location:Kangasala, Finland
E-mail
---
33

1939 Oldsmobile 2dr 60 Series Business Coupe
Air ride suspension,Air conditioning,
ZZ-4 motor, 700-r transmission,
Tubular upper and lower A-arms
with power rack and pinion steering,
ladder bars and tubed in rear.

Comments: Looking for Aluminum Replacement Grill

Owner: Bill Harrison
E-mail
---
34
1939 Olds-G39-70 series 4dr
6cyl 230ci 3spd .Restoration 1993.
Engine and trans rebuilt July 2000. Color: Two tone brown.
Won 3 plaques 1 trophy Sept 2000. Location: Altamonte Springs, Florida .
Owner: Ricardo, Nick name MOFONGO.
E-mail
---
35
1939 Oldsmobile 4dr Sedan
Owner: Jose Franco
---
36
1939 Oldsmobile 2dr Club Coupe
She is rembrant blue and has 16,000 miles, original from the factory to today miles. She is restored to original condition. The paint on the wheels is still the orignal paint. The interior is original, seat, dash and headliner...cleaned only.
Owner: Dale Kebler
Location:Rayville Missouri
---
37
1939 Oldsmobile 4dr Sedan
FENDERS BLACK CHERRY, BODY BURGUNDY.
ENGINE REPLACED FROM 6 CYLINDER TO A CHEVY 350
WITH A/C, POWER SEATS.
INTERIOR NOT COMPLETED
Owner: William Beinhoff
Location: Akron Ohio
---
38

1939 Oldsmobile, 60 Series, 4dr Sedan
Owner: Rick Guiborat
Location: Wheaton, IL.
---
39

1939 Oldsmobile 4dr Sedan 6 cylinder
Owner: Larry
Location: Michigan
---
40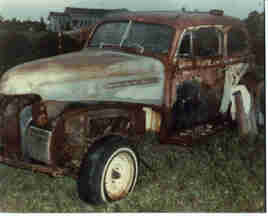 1939 Oldsmobile 2dr. Sedan
Owner: Darrel Lynch
Location: Tifton Georgia
E-mail
---
NUMBERS 41-50
---
---
---
BACK